Amplifying an important message during a healthcare crisis
Centre for Ocular Research & Education
Hygiene was the topic of early 2020, as we faced the beginnings of an unpredictable global pandemic. For the Centre for Ocular Research & Education (CORE), eye hygiene is always top-of-mind. When the CDC advised everyone to avoid touching their eyes, nose and mouth to prevent the spread of COVID-19, CORE only increased its focus on keeping eyes healthy around the world.
CORE investigates fundamental research questions relating to the ocular surface and biomaterials, particularly contact lenses. So they know what they're talking about when it comes to contact safety. The CORE team assembled a series of evidence-based tips for contact lens wearers, glasses wearers and eye care professionals concerned about proper eye hygiene during a pandemic. Parkway Digital collaborated with McDougall Communications to design an infographic and animated video to amplify CORE's international "Contact Lens Wear and Coronavirus" campaign across digital channels.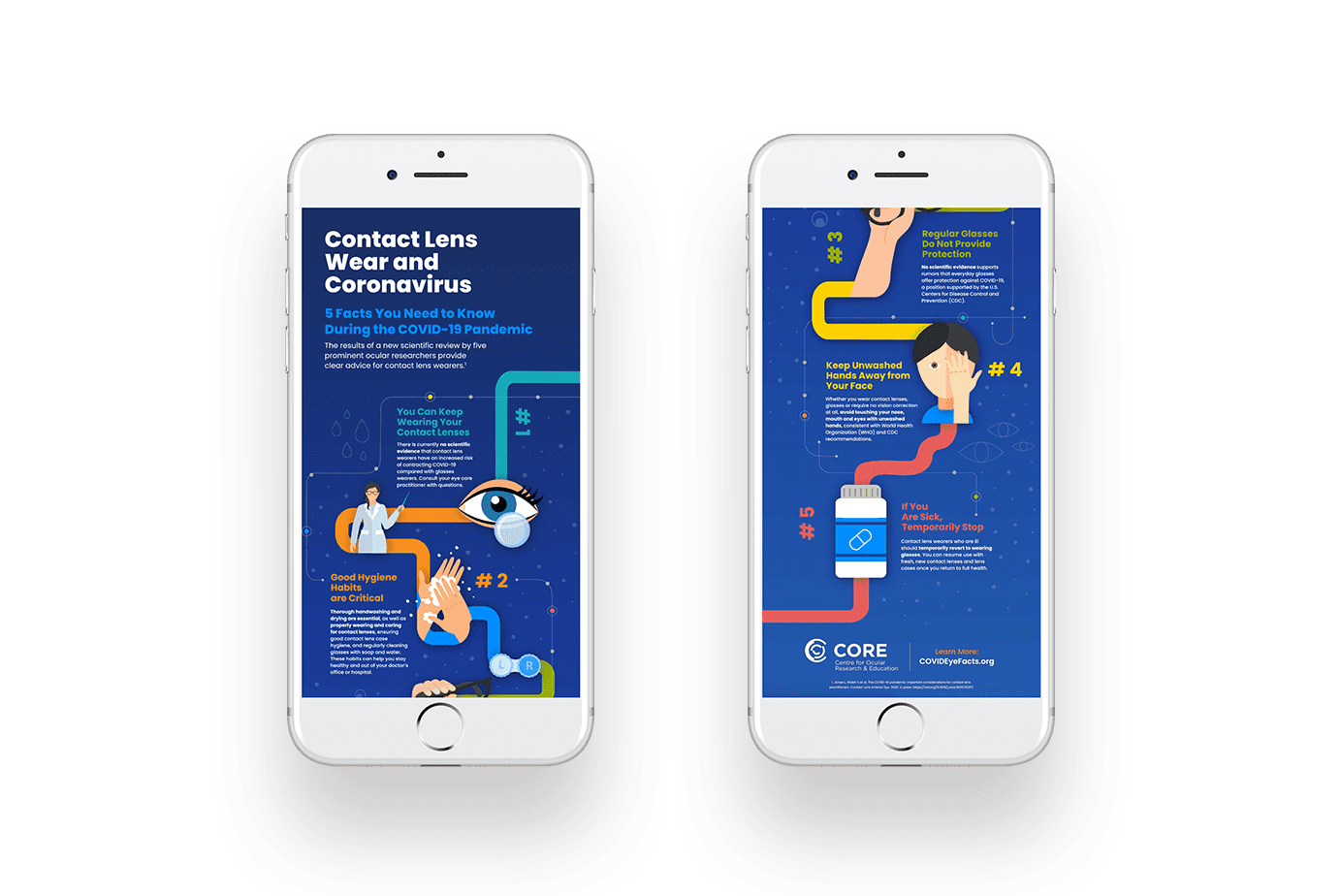 Designing for approachability
Our design team translated CORE's ocular research into digestible tips with effective data visuals. We used a comprehensive information hierarchy to make the material easy to understand and act on. Using fun graphics and an energetic color palette that matches CORE's established brand, we created an approachable infographic for contact lens and glasses wearers. These visuals were also the starting point for a short animation that furthered the campaign's reach on social media!
The infographic, shared in 29 languages, played a key role in the COVID Eye Facts campaign, which was the most extensive global eye health outreach program in the past 30 years. The graphics were among at least one contact lens manufacturer's global and regional social media platforms' highest overall post reach and engagement.
Let's Chat
Want to work with us? Let's build something together.